The valley Aisle's famous road to Hana is one of the most spectacular road trips in all of the Hawaiian Islands. The 51 miles of Hana highway is full of sites such as mesmerizing waterfalls, black sand beaches, tropical rainforest, picturesque scenes; fresh homemade banana bread stalls, and more that are not to be missed. The whole crux of this road journey lies in the road trip rather than the destination since the road to Hana has over 600+ hairpin turns, many blind corners, and amazing spots on the way. The Hana highway winds through towering ocean cliffs traverse through rainforests and more than 50 one-lane bridges make this place the most sought after among tourists.
The number of waterfalls on the road to Hana attracts maximum visitors as people love to do hiking which leads to beautiful waterfalls and freshwater pools. There are many amazing stops on the way and you are guaranteed to see beautiful vistas. Unless you are planning to stay overnight in Hana town or get a guided tour, you cannot see all the sites on your journey. Here are the most recommended stops:
Twin waterfalls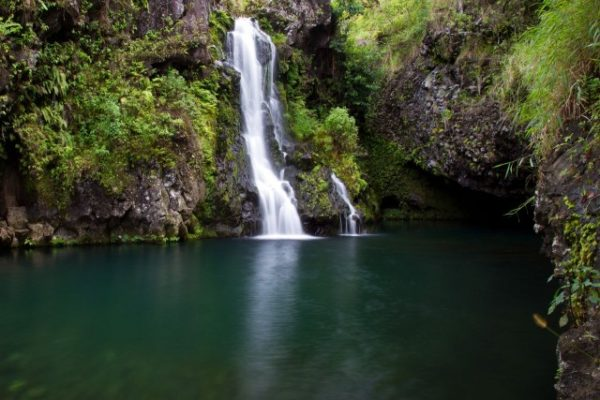 While you ascend the journey of tight bridges and single road Hana, you probably gift the mind-blowing ravishing waterfalls, mountains, and much more spectacular attractions coming on the way. Twin waterfalls are the favorite waterfalls on the road to Hana. One of them is located on the road while the other requires you to cover a short hike and enjoy bathing in the freshwater pools.
Ho'okipa Beach Park
The beach is situated around mile 9 of the historic Hana highway. The Ho'okipa is nestled in between the town of Paia and Haiuku town center. Have an incredible experience in the place reviving and relaxing in the lap of nature.
Huelo Lookout
The Huelo Lookout is a quaint rest stop with mesmerizing East Maui island views. When looking for this incredible place, look for the farm stand that marks the destination.
Maui Garden of Eden
If you are planning to stop at a few places on the Road to Hana then Maui Garden of Eden should be the number one on your list. It is a beautiful admission arboretum that constitutes waterfalls, a picnic area, and incredibly picturesque. There is also an ice cream stand.
Keanae Peninsula
If you have some time and want to stretch your legs, a short side trip down to this peninsula is worth visiting. The area has a great history, stunning coastline views, and an incredible opportunity to catch a glimpse of the 'Old Hawaii'.
Waianapanapa State Park
Nobody would want to miss visiting this wonderful park where you could stay all day long. But remember, you have to make a reservation to enter this park 14 days in advance as same-day entry is not available. You can walk down to the spectacular black sand beach and check out the cave made due to volcanic eruptions. The park offers plenty of photographic options so if you are a photo enthusiast, you will get the best spots to take many.
When taking the road to Hana tour, you must respect local people and property. Make sure you honor rules, regulations, Hawaiian culture, and sensitive historical sites. Make the most of your trip without harming anyone.
Book a guided tour with stardust Hawaii 
The road to Hana has almost everything to let you feel head over heels. One can spend years exploring Maui, its history, culture, delicious food, swimming in warm waters, and having fun on road to Hana waterfalls. To book a guided tour, reach out to Star Dust Hawaii and get the advantage of inexpensive tours.