The peaceful and legendary road to Hana is considered one of the last unspoiled Hawaiian frontiers located along the eastern coastline. This 52 miles road consists of many hairpin turns and narrow one-lane bridges. On this beautiful journey, you will experience flourishing rainforests, enchanting island views, beautiful beaches, flowing waterfalls, dramatic seascapes, and plunging freshwater pools. What most people like about this wonderful place is the journey and the waterfalls. Did you know there are more than fifteen Hana waterfalls and all of them are packed with tourists most of the time? If you also want to get full fun under the waterfalls and in freshwater pools, it's good to start early and try to cover not all but maximum spots.
Things you should know before visiting the road to Hana waterfalls: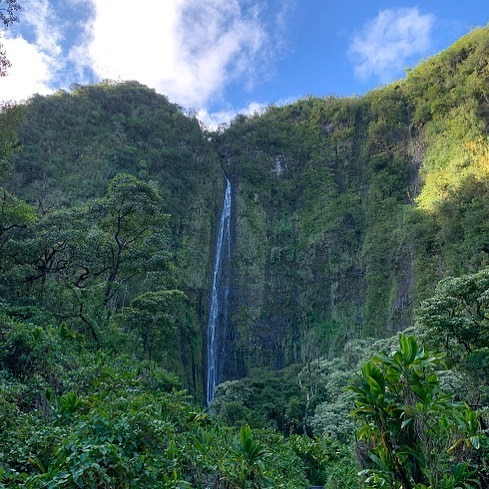 Make sure you wear light clothing that is easy to layer since the weather can be hot or humid. Sudden rainfalls however can change the weather anytime.
Get ready to trek across muddy, wet terrains. Just ensure you carry water shoes or hiking footwear to avoid slipping and falling.
Don't forget to take your bathing suit. If you are going there for a freshwater bath, make sure you have the right clothing to get a full experience.
Downloading maps and taking guidebooks with you is recommended as they will be of greater help to you in case of getting a reference for a certain road or hike.
Make sure you have packed your own toilet papers and hand sanitizers to avoid any problems later on.
Refrain from touching, picking, or taking any plants or fruits along the way.
Don't ever think to jump into the waterfalls from a cliff because of safety reasons, no matter how tempted you are to do so.
There is an abundance of invasive species like fire ants on the hiking trails. Keep an eye on any signs and stay on the main trail to prevent any spread.
Most waterfalls are reached by hiking through private properties. There are many private signs displayed and the locals demand respect and cooperation in every regard.
There are no reservations or fees charged to visit waterfalls on the road to Hana however; you can support the locals by purchasing something from the farm stand, booking a farm tour when offered, and more.
The most captivating waterfalls on the road to Hana are:
There are several breathtaking waterfalls on the road to Hana that will make your tour from drab to fab. No matter how tired you feel, after a quick bath in freshwater pools, you will be refreshed again. Here are the most famous waterfalls you should visit:
Mile marker 2: Twin Falls
Mile marker 19: Upper Waikani Falls
Mile marker 22: Pua'a Kaa State Wayside Park
Mile marker 24: Hanawai Falls
Mile marker 25: Makapipi Falls
Mile marker 42: Kipahulu, Haleakala National Park
Mile marker 45: Paihi Falls
Mile marker 45: Wailua Falls
Book a guided tour with Stardust Hawaii
According to research, visitors feel more secure and stress-free when they are on a guided tour. This is because when you are with a professional guide, you will go straight to the spots of enjoyment without any hassle and no local or tourist can befool you for anything. The guides also provide full information about the local culture, history and the best places to visit. Book a tour with us today and get the best of your trip to waterfalls on the road to Hana.