Experience the Adventure of Your Lifetime on the Water
Do you want to have the best adventurous experience of your lifetime? Are you a water sports lover? Do you want to witness the real beauty of Maui? Then there is no better way than exploring Maui on the water. This incredibly diverse island is filled with the underwater wonders of nature.
From awesome beaches to snorkeling expeditions, sailing adventures, and kayaking, its waters have a lot to offer to enthusiastic visitors. You can enjoy a truly immersive glass bottom tour of Maui to get close to the marine life, which is sure to awe you.
At Stardust Tours, we bring the most memorable and breathtaking tours to Hawaii. As a local tour company, we know every nook and corner, activities, and adventures of Maui, Hawaii. Hence, we can help you take benefit of our services at the most competitive prices.
Our tours offer fascinating Hawaiian attractions that leave you mesmerized. Whether you want to book a romantic Kaanapali sunset dinner sail with your beloved or a crazy boat adventure on Maui or just wish to indulge in the soothing waves, we have you covered. Our trained and experienced local tour managers and guides take you through your desired destinations and help you enjoy the true spirit of Maui.
Enjoy Our Range of Tours On the Waters of Maui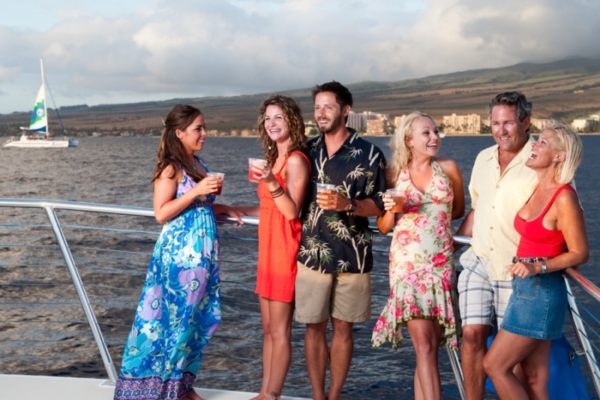 At Stardust Hawaii, we give you an opportunity to enjoy a wide range of on the water tours on Maui, Hawaii. From enjoying the beautiful coastline during kayaking to exhilarating sailing and snorkeling tour, witnessing majestic whale swimming along with a cute sea turtle to having a crazy boat adventure on Maui, and groups surf lesions to a glass-bottom boat tour Maui, we have it all for you. Come and explore what we offer for you to discover on Mauii.
Kayaking Tours
Nothing can be more soothing and calming than a smooth, silky, and shiny ocean. Kayaking tours give you an opportunity to indulge yourself in the beauty of the Pacific from close quarters. Discover the picturesque coastline and off coastline spots and view the thrilling 'gentle ocean giants' closely and reconcile with nature. You can have customized kayaking tours and lessons that fit your holiday schedule. We recommend the best time for kayaking and ensure that you have the most enthralling and valuable experience of your life.
Have Close Encounters with Sealife with Glass Bottom Boat Tour Maui
Want to experience the breathtaking sea life of the Pacific closely? We offer an exclusive glass-bottom boat tour Maui which lets you have the ultimate viewing experience of underwater sea life without getting yourself into the water. See awesome coral reefs, unique fish species, turtles, and much more. A golden opportunity for you to explore the exotic reef of Maui!
Give a Romantic Surprise to Your Beloved
Book a romantic Kaanapali Sunset Dinner Sail to surprise your beloved. This exclusive sunset dinner sail lets you have the most sumptuous exotic dinner prepared by our expert chefs at one of the stunning beaches in Hawaii, Kaanapali.
You get a chance to enjoy the dinner amidst the lush green and rainbow crowned mountains on one side and beautiful Lanai and Molokai islands on the other side. This is undoubtedly the most spectacular and unforgettable sight, which remains a lasting impression on your memory.
Water Adventure Lovers Should Not Miss Out the Crazy Boat Adventure on Maui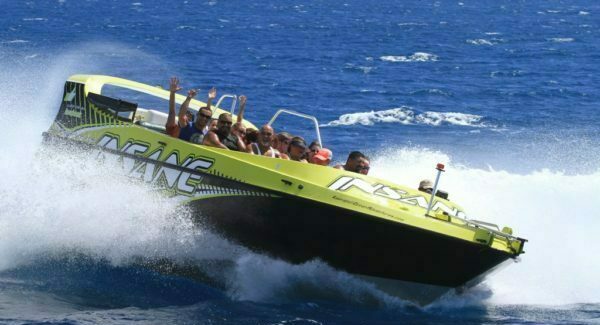 For all those water adventure lovers, we have set a special crazy boat adventure on Maui. Our trained and experienced boat captains give you crazy adventure boat tours filled with thrill and excitement. Have an hour of wild and wet fun moving on the sparkling waves with 360 spins, slides, and sharp turns.
Feel the adrenalin rush and satisfy your adventure cravings. This heart-pounding boat ride is certainly not for the feeble hearts. The exhilarating, adventurous, crazy boat adventure on Maui gives you the feeling of riding a roller coaster on the water.
Moreover, if you are into learning surfing, join our group surf lesson on Maui. We have trained and experienced surfing trainers to give a flavor of surfing art and skill. You can book your surfing tour with Stardust Hawaii to have fun, professional, and safe surfing lessons on the gushing waves.
Explore more on the water adventure at Stardust Hawaii!