Only YOU! – Custom Segway private tour on Maui, Hawaii
Up to 3 hours
Only YOU! – Custom made Segway PT Tour in Maui, Hawaii with recommendations from our experienced guides according to your liking. The private tours are tailored by you or your group, as you know what you like the most. This single custom made Segway PT tour in Maui is best if you would like to enjoy your time, riding on a Segway PT and discover new Maui areas with professional guide narration via personal radio. All private tours need to be booked in advance to increase the tour flexibility and to prepare for the special considerations on your tour. We can add virtually anything to your trip unique and fun for you.
Perfect for YOU only and your Segway guide. The best choice for personal interaction and focusing only on yourself.
Custom made based on your needs with recommendations from our experienced guides
Unique Experience – up to 3 hours
Complimentary picnic available
An orientation before you ride and then, off you'll go to Maui destinations only known to you and your guide
Door to door transportation is available during the booking process for $99.98 Round Trip/person
The Lahaina shuttle is also available during the booking process for $20 Round Trip/person


---
 Age restriction:
10yrs-16yrs – need to be accompanied by a parent or a legal guardian during tour
16yrs–18yrs – can go alone but a parent or a legal guardian needs to sign the waiver.
18yrs and up need to sign waivers by themselves.
---
Included:
Fun Instruction and in-depth knowledge of technical and practical usage
Customized Complimentary Picnic based on your preferences ($10/person)
Communication radios – you hear everything our guide will say during the tour
Take stops on your Segway adventure to take pictures of Maui's key landmarks
Keep the memory of the trip, with party of 4 – Custom made Segway PT tour in Maui, vivid by letting us take a photos of your group, get them on CD or USB or making an HD video on a DVD or Blu-Ray Kindly let us know with reservation if you want our expert help on doing this for your album or family video collection. Additional Charges applied.
Keep the famous Segway Maui "Don't Hit Me" T-shirt FREE* of charge as a souvenir with direct booking and the full price


---
Facts and Requirement:
Tour: 9:00 am or 12:30 pm

Included: Helmets, reflective safety vest or T-shirt, personal radios, Segway PT

Recommended to bring: closed shoes, sun screen, sun glasses
Age Restrictions – IF UNDER 18: 16 years and younger, but minimum 10 years old, must be accompanied by a parent, guardian, or chaperon on a tour. (Chaperon form is required.) Guests between 16 and 17 years old must have a parent or guardian present at check-in and sign waiver to participate. Weight Restrictions: Weight restrictions are between 75 lbs and 260 lbs for Segway Tours. Weight limits are strictly enforced, and each guest might be weighed at check-in. Health & Physical Requirements: All guests must be capable of moderate to advanced physical activity, must be able to step on and off the Segway PT without assistance which requires physical abilities similar to climbing and descending stairs without the support of a handrail or other walking aid. • Guests must not have neck, back, shoulder, knee, ankle injuries, heart conditions, or recent surgeries. • No pregnant women will be allowed to ride a Segway PT. We can't allow any persons under drug or alcohol influences ride a Segway PT. • Guests must be physically and mentally capable of following instructions given by a Segway guide. Cancellation Policy: If the tour is canceled by the tour operator, the full ticket price will be refunded. Cancellations prior to 48 hours are charged a minimum $10.00 per person administration fee. We charge 100% for No Shows or cancellations within 48 hours. Riders may be responsible for all damage to equipment if such damage is determined to be the result of a reckless and irresponsible operation by the guest. Online reservations need to be scheduled at least 72 hours prior to the tour and need to be confirmed by phone (808-661-8284 ) for exact time and date.
---
LAHAINA OFFICE –  – Please park your car on Limahana street.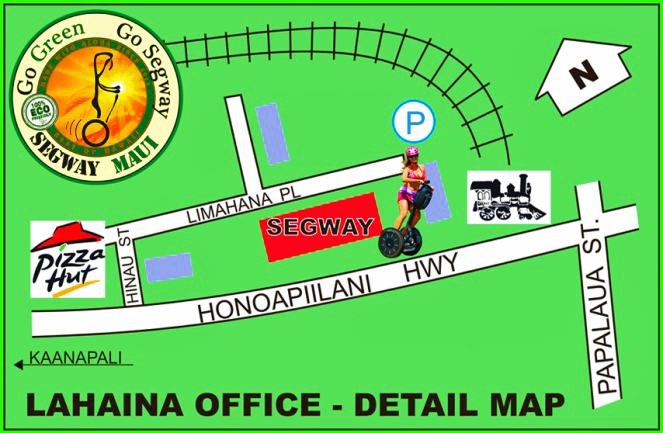 Segway Maui certificates – Trip Advisor Certificate of Excellence since 2011, Hawaii visitors certificate and Authorized Segway tours certificate